With almost 35 years experience, and an impeccable reputation, Bonnie's services are sought by every major landlord across Canada.  In short, Bonnie Hoy is the "go to" person in the residential rentals industry for your marketing and public relations needs.


Her wealth of experience has included over 75 acquisitions on behalf of her clients, market surveys and analysis of primary and secondary markets, repositioning of properties, capital renovation evaluations, resident satisfaction survey preparation and subsequent data analysis, mystery shopping, the development of creative advertising and signage campaigns and training and development of front line staff from coast to coast.
Bonnie Hoy believes that all Canadians have a right to a clean and comfortable living environment. She has been an outspoken advocate for change within the apartment industry and is often called on to speak on landlord and tenant issues.
In her spare time Bonnie is an educator and philanthropist.  She writes for numerous rental and industry related publications and is the founder of Canada's largest door-to-door food drive (Spring Hope), which collects hundreds of thousands of dollars in food donations annually .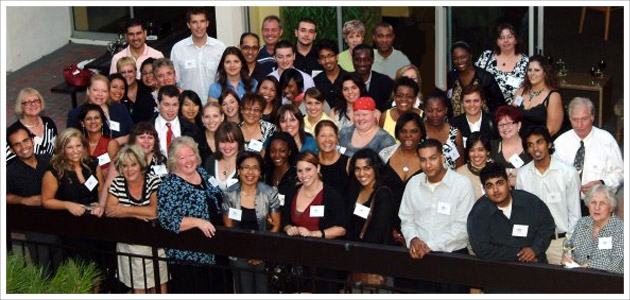 Bonnie with friends and colleagues celebrating 25 years in business.
In 2005, Bonnie won the Associate Member of the Year Award from the Federation of Rental Housing Providers of Ontario (FRPO) for her outstanding contributions to this industry.  She has also won three other Community Service awards representing landlords. In 2008, Bonnie was honored with the Spirit Award for her endless volunteer work on behalf of the Greater Toronto Apartment Association (GTAA).
Bonnie is passionate about people and supports residents in all walks of life. She is fair, detailed and accurate in her assessments and analysis. Bonnie Hoy is considered to be the pre-eminent leader in multi-unit housing marketing, public relations and analysis in Canada.