The Ontario-wide Spring H.O.P.E. (Housing Owners and People Everywhere) Food Drive successfully launched their 12th year of collecting donations on April 24, 2012.
The drive opened with a ceremony at 505 Cummer Avenue, with speeches giving an overview of the purpose of the food drive and who it benefits, including a speech made by Spring H.O.P.E. Food Drive Champion Bonnie Hoy in which she said a suggestion from one of her children is what inspired her to start this annual event.
The Spring H.O.P.E. Food Drive aims to help local food banks fill up their shelves for the summer season.  Most people don't know that spring and summer can be the lowest time of year for donations.
"If we can't give people seriously affected by the recession free rent, we can at least offer them a free meal," said Hoy in a statement on the Spring H.O.P.E. website.  "Food and shelter are basic necessities.  Maybe if we help provide one, it will help our residents to pay for the other."
This successful event has volunteers at all participating buildings knock on doors and ask for donations.
"People were very generous," said Maryann Kalchos, Spring H.O.P.E. volunteer at 75 Thorncliffe Park Drive.  "I was very impressed at people's enthusiasm to donate to such a worthy cause."
Residents were notified ahead of time that volunteers would be collecting food door-to-door from 6:30 p.m. to 9:00 p.m. on April 24.
"Over 130,000 pounds of food has already been collected in the GTA and some more is still trickling in," said Daryl Chong, President and CEO of the Greater Toronto Apartment Association.  "This year's Spring H.O.P.E. Food Drive exceeded what we did last year.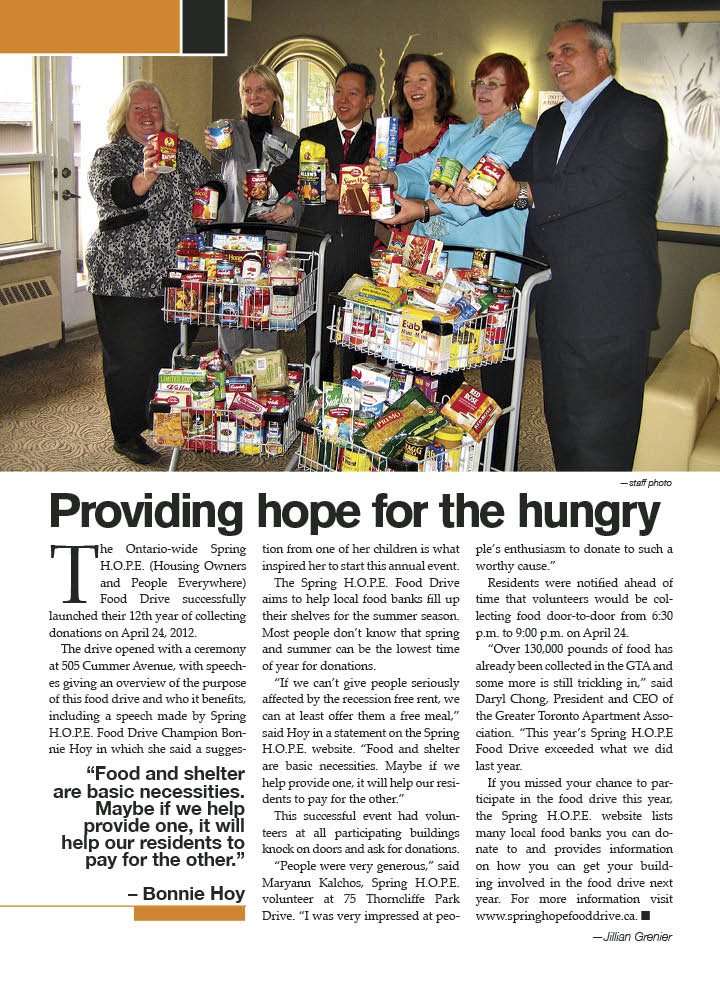 If you missed you missed your chance to participate in the food drive this year, the Spring H.O.P.E. website lists many local food banks you can donate to and provides information on how you can get your building involved in the food drive next year.  For more information visit www.springhopefooddrive.ca.