Comprehensive Advertising Campaigns
From brochures and other promotional material to print ads and Internet presence, we'll create a unique look that will meet the needs of your target market.  No matter the size or nature of your product, we'll ensure you have a look that is fresh and stylish and guaranteed to get the response you're looking for.
Mass-Mailer Flyers
Not only will we prepare the press-ready artwork to meet your specific needs, but we have the resources to get you the very best rates for printing large quantities of flyers and for distributing them coast to coast through Canada Post.  We have established relationships in the industry that will get you the best deals for all your printing and distribution needs.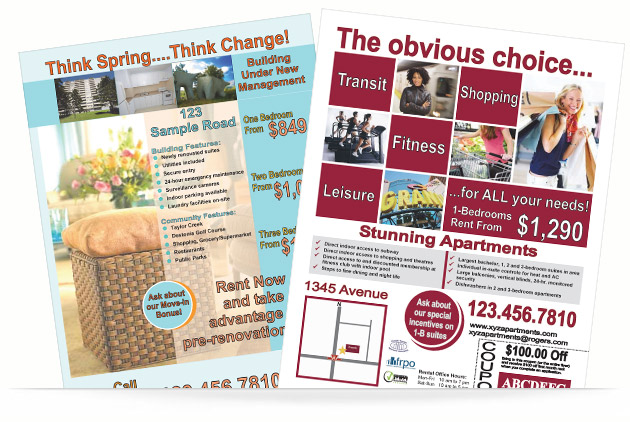 Referral Campaigns
More and more landlords today are recognizing that their best source of potential residents is through word of mouth.  Residents are also beginning to recognize that they have a stake in creating the type of community they live in and are referring friends and colleagues to their buildings.  We have prepared numerous referral campaigns from standard doorhangers to simple post-card-sized cards and referral fees ranging from $150-500 for each successful application.  It's a small amount to pay when you realize that just one referral can result in $10-20,000 in annual revenue for your building.

Newsletters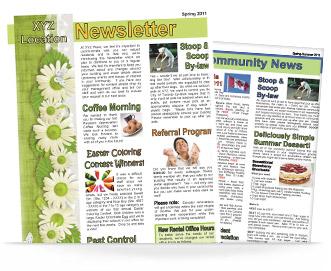 Creating and maintaining a sense of community is very important to landlords today.  A simple and easy way to communicate with your residents is through a monthly or quarterly newsletter.  Each newsletter is designed to reflect the specific needs of your community and is a cost-effective way of conveying important information to your residents as well as details about upcoming events and interesting tidbits of a more seasonal nature.  A small investment with big dividends!
Community Information Sheets
Do your residents know the location of schools, banks, pharmacies, post office or grocery stores in their neighbourhood?  With so many residents who may have just arrived in Canada or for those who are unfamiliar with the area this is an easy way to help them get oriented and truly feel "at home".  Like our Welcome Baskets it's a small thing that goes a long way in making tenants feel they've made a wise choice.